Red Brick Daily
When a person marries an R.O.C. (Taiwan) national, they can quickly obtain residency, and later permanent residency or an APRC.
The spouse might also then seek Taiwanese citizenship, which requires the applicant to renounce their original nationality.  The majority of spouses who choose to become ROC nationals are so-called "foreign brides," mostly from China and Vietnam.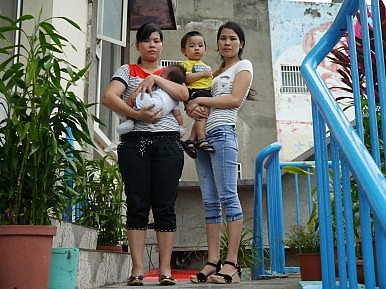 (Via The Diplomat)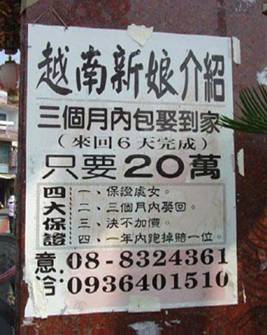 (An ad in Pingtung for Vietnamese brides — for a 'brokerage fee' of at least NT$200,000)
Other 'foreign brides' come from a variety of Asian nations, including Indonesia and Cambodia. Many of these women are from extremely poor families and sometimes marry a Taiwanese man they hardly know before relocating to Taiwan. As you might imagine, the transition can be tough.
Sometimes the marriage, however, is a fraud.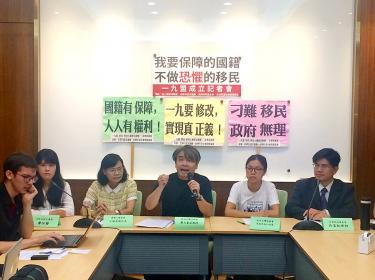 In all cases, however, rights advocates say those who have obtained a Taiwan ID should have more clearly defined rights, and not have to worry about their citizenship being revoked, which renders them stateless.
The Taipei Times has more:
"Members of the Labor Rights Association, Legal Aid Foundation, TransAsia Sisterhood Taiwan and other groups gathered at the Legislative Yuan to announce the establishment of the "Article 19 Alliance," named after regulations that say naturalization cannot be revoked after a five-year statute of limitations.
'The problem with the article is that these people give up their citizenships,' National Chengchi University associate professor of law Bruce Liao (廖元豪) said. 'When they apply, the government found no problems with their application, but after a couple years, it can still revoke citizenship because of minor paperwork issues, effectively making the foreign spouses stateless.'
There is a backlog of more than 80 foreign spouses from Vietnam who have had their ROC citizenship revoked, with the Vietnamese government only restoring citizenship to two individuals each year…"
http://www.taipeitimes.com/News/taiwan/archives/2017/09/14/2003678408
Comments