Red Brick Daily
Did you know that Kenting's Shiangchiaowan coastal forest is home to at least 26 species of land crab? That makes the little stretch of coastline the most diverse known habitat in the world for the crabs.
But, as the Taipei Times reports (July 2017):
"Kenting's Banana Bay (香蕉灣) is an important habitat and spawning ground for land crabs, but since the construction of Highway No. 26, land crabs have had to cross the road to lay their eggs and are often killed by passing vehicles.
To help crabs cross the road, the Kenting National Park Administration has tried various measures over the years, including periodically closing highway lanes.
However, the measures have had less-than-satisfying results, with the mortality rate of migrating crabs exceeding 30 percent last year, up from a 20 percent average in previous years."
http://www.taipeitimes.com/News/taiwan/archives/2017/07/06/2003674006
The crab-savers aren't giving up, however:
"An entire section of the highway would be closed for two hours for the first time … From Aug. 6 to Aug. 8 and Sept. 5 to Sept. 7, all vehicles — except emergency vehicles and local residents' scooters — are to be banned from between the 39.5km and the 41.5km highway markers, from 6:30pm to 8:30pm, the park said.
The section is to be closed for two minutes every 10 minutes during the two periods … As in previous years, the outside lanes are to be closed between 6:30pm and 8:30pm, from Saturday until Monday, and from Oct. 4 to Oct. 6, 2017."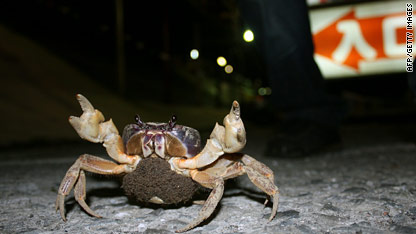 Good luck, crabs! Live long and prosper
Comments